See pictures from the 2011 Top 50
Captains of industry will rub shoulders with start-ups and social entrepreneurs at the seventh annual Belfast Business Top 50 at Stormont at 6pm on Thursday 29 September.
Hosted by the Belfast Media Group and backed by sponsors, including LBM, Invest NI and United, the event spotlights fifty champions of business who are creating jobs and wealth even in the teeth of a crippling recession.
As well as recognizing business titans like Brian Ambrose of the George Best Belfast City Airport, Paddy O'Hagan of the New York Stock Exchange and Phillippe Dofroy of Dow, the listing also honours social entrepreneurs, and retailers as well as popular chefs Niall McKenna of James Street South and Bob McCoubrey of Mourne Seafood.
Guest speaker at the celebration will be Sammy Wilson MP, MLA, Minister at the Department of Finance and Personnel.
Writing in the special supplement profiling the 50 companies and entrepreneurs on the listing, Alastair Hamilton, CEO of Invest NI said: "I'd like to extend my congratulations to the participants in these awards. You are already winners and role models for others to follow. Your drive and determination to grow successful businesses is inspiring."
Said Alison Sweeney of the Belfast Media Group: "During tough economic times, Belfast needs the type of economic leadership being provided by our fabulous fifty companies who are testament to the great talent of Belfast. We have used these awards as a springboard for a new Belfast Media Group marketing campaign which highlights not the problems but the promise of Belfast through two outstanding new developments, The Rising sculpture in west Belfast and the Titanic Building in east Belfast."
Recipients of Special Awards at the event will include Bombardier which will be presented with the Belfast Business of the Year award. Other special awards will be presented in the following categories:
Invest NI Growth Award: Adelaide Insurance
UCIT Social Entrepreur Award: Paul Roberts, Ashton Community Trust.
Lough Shore Investments Best Start-Up Award: Wholeschool Software.
Enterprise Agencies Impact Award: All Electical Recycling.
People's Choice Award: Sisaf
Building Tomorrow's Belfast: Conal Harvey, Titanic Quarter Ltd
Local Business Award: McPeake's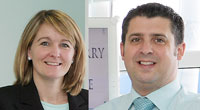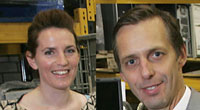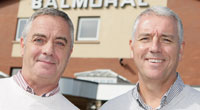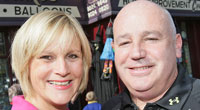 This year's Belfast Business Top 50 list
Adelaide Insurance, Sam Geddis
All Electrical Recycling Ltd, Niamh O'Sullivan and Brian Johnston
Andrew Morris Golf
Ann McGregor, Northern Ireland Chamber of Commerce
Ashley Moore, geopii
Balmoral Hotel
Best Birthdays, Jennifer Clear
Bob McCoubrey, Mourne Seafood Bar
Brian Ambrose, Belfast City Airport
Caitriona Lavery, Hastings Hotels
Ciaran Sheehan, Young Enterprise
Colinwell Concrete Ltd, Michael McGuigan
Conal Harvey, Titanic Quarter Ltd
Brendan Smyth, Cybersource
David Hendron, Bombardier Aerospace
Donal Denvir, Andor Technology
Dr Suzanne Saffie-Siebert, SiSaf Ltd
Drumbo Park Greyhound Stadium
Dunmurry Dental Practice
Emer Hinphey, thinkpeople ltd
FlowJob.com
FRANK, Damian Cranney
Glyn Roberts, Northern Ireland Independent Retail Trade Association
Jackie Henry, Deloitte
The Chip Company
John Healy, Citi
Jonathan Savage, Clearlift Material Handling Ltd
Kieran Harding, Business in the Community
Liam Jordan, ICONI
Maeve Monaghan, NOW
Mark Barr, SISK
Mark Brown, Arcadia Delicatessen
Mark White, Breakaway Travel
Martin Neill, AirPOS Ltd
Maurice Kinkead, East Belfast Partnership Board
Michael McGurn, McGurn Elite Sport
McPeakes, Sean and Daniella Campbell
Michael Black, Aepona
Niall McKenna, James Street South
Patrick O Hagan, NYSE Euronext
Paul Roberts, Ashton Community Trust
Peter Stafford, A&L Goodbody
Philippe Joffroy, Dow Chemical Company Ltd
Richard McCullough, Designco Ltd
Roseann Kelly, Women in Business NI
Sean Mahon, Cable&Wireless Worldwide
Oliver Lennon, SpeechStorm
David Stronge, SwimStronge Ltd
Valerie Allen
Wholeschool Software, Frank McGonagle