By Francesca Ryan
One of the men involved in the Black Mountain protest against the queen's visit says the demonstration was a peaceful one. Ballymurphy republican Seán Cahill told the Andersonstown News that those involved in the protest represented no particular republican group but a number of republican backgrounds all keen on quietly expressing their Irishness.
"This is a community initiative," he said.  "We are a group of individual republicans, from different shades, coming together to mark what has happened here this week, the queen of Britain has come to invade her occupied territory.
"We wanted to display our Irishness and show that she isn't our queen, our queen is our country."
Seán says the loyalist attack after which one local man was left hospitalised was "orchestrated" and he queried whether the PSNI would take action against the mob, who he says have boasted about the attack online and even posted a photo of themselves on the mountain.
"This murderous attack was orchestrated and facilitated by known UDA men," he said. "All day on Tuesday, up to a half hour before the attack, there was a heavy cop presence. Half an hour before the attack, they disappeared and never came back.
"The people behind this attack should be arrested and charged because they have admitted it, but we don't hold out much hope because things like that just don't happen."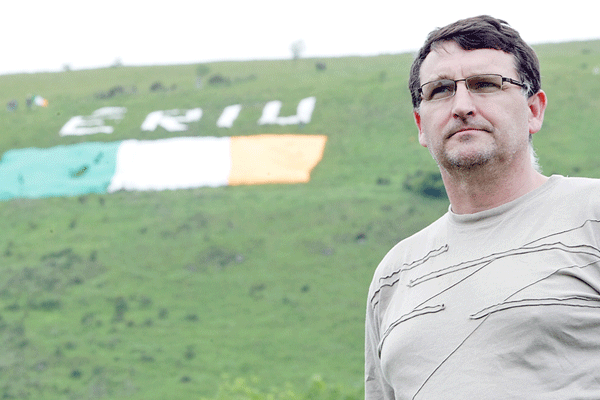 Seán says that while the protest was temporarily stalled following the incident, it was quickly restored and would remain in place until the queen left Ireland.
"After this attack where royalists ripped up the flag and attacked a man, feelings were running high and there was the possibility of more attacks so we took the camp down and re-established it this morning (Wednesday).
"Our message remains the same, you can be British all you want, but she is not our queen and we are here to display our Irishness."
We asked the PSNI about  the photo and claims made online about the attack. A PSNI spokeswoman said: "Police are fully investigating the incident."
Meanwhile, petrol bombs were thrown at the PSNI when trouble broke out near Broadway Roundaboutlate on Tuesday night.
A crowd of up to 100 people gathered at the junction at around 11pm and threw missiles at the PSNI, who had blocked the road off. Nine police officers were injured during rioting, which had faded within an hour of it starting.
Please follow and like us: